Sex with Vegetables | Pleasure in the Produce Section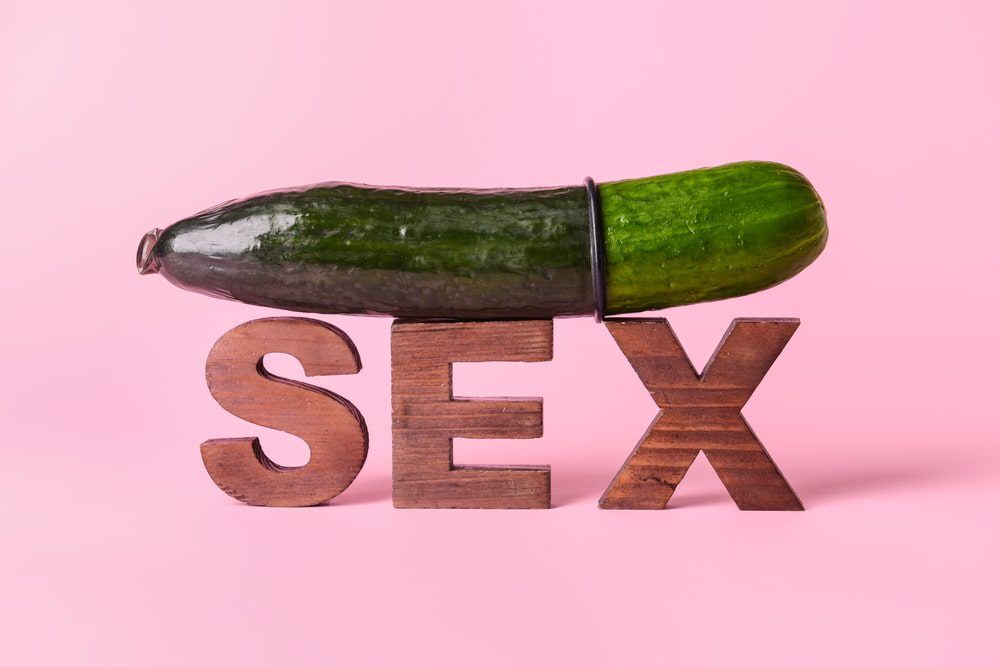 Having sex in the produce section? I will never think of the "Piggly Wiggly" grocery store the same! No, we are talking about finding pleasure with what's in the produce section, Mainly with fruits and vegetables. There are many times a year where couples ask, is it safe to have sex with vegetables or use produce, a fruit or vegetable as a sex toy.
This month and next month on subMrs we focus much on PLEASURE. August is officially Anal Pleasure Month and September is Pleasure Your Mate Month. Both of these months happen to be fall harvest months. Many people with gardens are wondering what to do with their extra vegetables, so much they came up with the holiday for August 8th, National Sneak Some Zucchini onto Your Neighbor's Porch Day.
Whether you are organically masturbating on your own or enjoying a Cornucopia of Cock with a side of vegetables with your husDOM these same warnings apply.
We will start with Fruits or anything that contains sugar. WARNING! The sugar in fruit can lead to infection if placed directly onto your lower orifices. If you must use a fruit, say a banana, Keep the peel on clean it and use a condom over it. Keep the fruits for oral pleasures only!
Concerns
Organic produce compared with conventionally grown produce, has lower detectable levels of pesticide residue. …
Peoples hands, fingers mean bacteria. The dirt that may be on the produce could contain bacteria as well.
You want to make sure to not introduce anything to your body that could cause infection.
Be careful not to completely insert any produce, as it may not come out the way it went in, specifically when using it anally.
Shopping for Veggie
When shopping for your vegetable, try to get organic vegetables, they will have less pesticides than the others. The most unsafe time to use Veggie, (WE WILL NAME YOUR VEGETABLE, Veggie, and make him a male, just for the sake of this article.) would be in the supermarket before you buy it, due to pesticides and bacteria. So, first wait until you get your vegetable home before having sex with it. NO GROCERY HOOK UPS!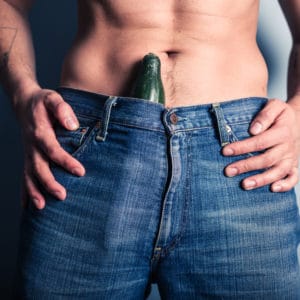 Shopping for your vegetables (Veggie) is almost the most fun you'll have with him. You and your Sir can go through the produce isles together inspecting and deciding what would work best for your session with Veggie. We all love staying monogamous, but Veggie could be your THIRD fantasy and hey, if you want a "GANG BANG", I would say while you're trying one, go ahead and get a few and see what feels.. NOT PEELS ..the best.
You both will be laughing and having a great time. Employees and other shoppers, they will stare at you both, they are NOT A PART OF MARRIAGE'S SEXIEST SECRET…… They don't know that they are missing a Veggie in their life. I would bet though they will tell their spouses and maybe having sex with vegetables in the near future!
What to Do with Veggie
When home, wash him off before using him. Check that there are no hard edges or pieces that could cum off or scratch you. Do not peel your veggies, just like penis', they are better hard. Though it's not necessary, for an additional peace of mind, wrap Veggie up, meaning use a condom for even safer vegetable sex. In Dominance and Submission, we are used to covering our wands..AKA, personal massagers, with large condoms to protect our very expensive, favorite tool. But, for a fun look up, Google, Love Guide Condoms made just for your vegetable pleasure.
Boner, I Mean Bonus
The bonus about veggies is that after they have done their job, sexually satisfied you and your Sir during your D|s-M scene, you can cut them up and make a satisfying meal, as well. One last WARNING, say if Veggie has "tossed your salad", (If they were in your back door…) I wouldn't eat them…. Toss Veggie!
Last Option
One last option, the safest of veggie options, though much more expensive is faux vegetables. If you really love to get your Veggie on… or off! You can buy lots of different sex toys shaped like vegetables! Some great ones … HOT peppers, corn on the cob and egg-plant, this way you can be ready for every harvest festival of the year! Our own Toy Workshop elf has reviewed the HOT Pepper! Hurry, most toy companies can rush your Veggie to you in time for the holiday, National Sneak Some Zucchini onto Your Neighbor's Porch Day. SubMrs will be twisting it to "Shop your subMrs a Zucchini Day".
Next time you say to someone, "EAT YOUR VEGGIE-TABLES" … You will NEVER THINK THE SAME AGAIN!
…. ENJOY!
Membership
Interested in becoming part of the secret, Marriage's Sexiest Secret? To become a member of our Dominance and submission Communities, please see links, subMrs.com and If your husband cares to sate his interests in becoming or learning about becoming a husDOM, send him this husDOM link.
Want a taste of it all? We do monthly podcasts, subscribe to Marriage's Sexiest Secret and husDOM podcasts.