Spanksgiving | Sexual Exercise and Ritual
This November, we wanted to make every one of our community couple's Thanksgiving and Spanksgiving a little more fun, a spanking fun time that is! How better than doing a Spanksgiving Sexual Exercise? Also, adding a little ritual purification to your special Dominance and submission dynamic.
Thomas Turkey must have been a Dominant as he wants some "spanking payback" and is DEMANDING again this year we celebrate spanking the consensual booty, along with giving it thanks!
Spanksgiving Holiday
When the pilgrims first came to America their lives were extreme and difficult. Their survival was uncertain. On the day after their great celebratory feast, Thanksgiving, pilgrim wives and a few other ladies were eager to make a special display of thanks for everything husbands had done throughout the harvest year. The women met and decided that as a show of their devotion and submission they would lay across there husbands legs, present her ass to her husband for ceremonial spanking the next Sunday. So every Sunday after Thanksgiving Day became Spanksgiving Day.
Today, a subMrs and her husDOM may want demonstrate gratitude for one another and will still follow this tradition. Use the day to purify your emotions and dynamic by do a ritual and therapeutic spanking.
Ritual Spanking
Spanking has been performed as a purification ritual since the ancients. Ritual spankings fits into many holidays like Lupercalia, Krampus, Moons, and of course, birthdays. "Impact play," of any type, specifically, spanking can be good for both physical and emotional of a person. Spankings with the one you love most are better than a trip to the spa, cheaper than antidepressants and a lot healthier than opioids. It is even known to produce hormones & pheromones along with the feel good chemicals helping your body's health! Practicing ritual Spankings can be very therapeutic to the mind and to your overall D|s-M dynamic. In practicing D|s-M, we use spankings to clear the submissive mind and aid them in communication, not to mention relieve the stress from bad days for a subMrs and the husDOM.
Spanksgiving Ritual
In front of her husDOM the subMrs will remove all her clothes, and as she removes each piece of clothing she will fold it, hand it to him, thank him for something he has done for her that year. When the sub is nude, the Dom will sit and direct his/her submissive to lay themself across their lap and present her bum for spanking. (NO TOYS FOR PLEASURE YET.)
The Dominant will then deliver the appropriate number her thanks received, while the wife counts them out loud and thanks him for each one. Then comes the Sirs turn to show his thanks. his spanks to her represent his thanks his sub for everything she has done for him through out the year, one spank for each thank you. The spanks will be applied with a firm hand, and the subMrs will keep counting his thankfulness. After the purification ritual is done the couple can take the spanking and scene further into whatever they may like…. this is where the pleasure cums in…
Spanksgiving Sexual Exercise
Remember in elementary school when you would do your hand-print turkey art? Well, this year we challenge D|s-M couples to make their own "Spanksgiving" art. This can be done with your Sir giving you a hand spanking on your ass. A single good hand print is hard to achieve and may take a few tries to perfect your work of art. Now, to win the award in this challenge you'll need to get very creative. You must make your print look like the turkey art of your long lost childhood school days, Feathers, markers, and glitter…. Get creatively sexy couples! It can be an up close of just the handy work or make a whole thanksgiving scene out of it, a whole spanksgiving scene. It's ok for the DOM to be in the images, just follow the rules….
You can use backdrops, wooden spoons, the sub-serving, plattered…. The ideas are endless!
Spanksgiving Competition Rules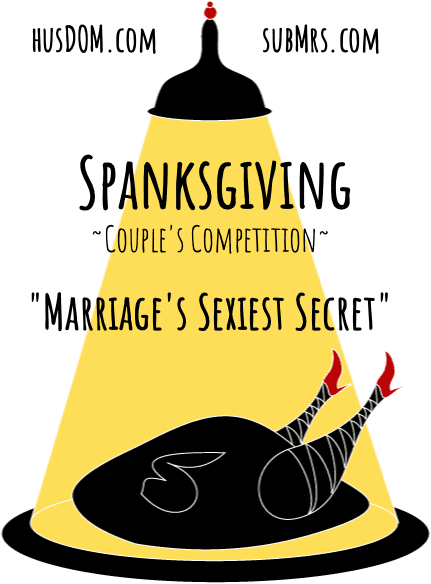 These images should show your work, but NOT TOO MUCH of your work! We want to sate the Voyeurs and the Exhibitionists among us but DO NOT GO TOO FAR! KEEP IT EDGY, FUN & CLASSY!
We respect your confidentiality, NO BARE FACES, instead use masks!
NO BARE NIPPLES, use your pasties.
PLEASE, NO BARE VAG or PENIS, wear a thong or a put your turkey in a sock!
Send in your pictures to LK@subMrs.com by December 4th. We will post every entry in the DISCUSSION FORUMS for everyone to enjoy! Mr. Fox and L.K. will see the comments and ask Trixie our Club Erotica to help us judge the images and announce a winner-winner-turkey dinner of a special REWARD for their SPECTACULAR EROTIC ART. Your images become property of subMrs.com once submitted! Good luck couples!
Spanksgiving Prayer
Saints and Sinners, On this Spanksgiving, let us give many thanks, let us give and receive many spanks. Let the spanks take away the the fear and misunderstandings that divide us. Let us practice TTWD giving one another peace through pain and pleasure. Then let us warm our hands across the nice warm willing skin of the bottom we love. In our rapture, let us express and manifest ecstasy and passion together.
Community Membership
Want to join us in our Spanksgiving Competition? Become a member of subMrs and husDOM!
Not yet a member? Interested in become part of the secret, Marriage's Sexiest Secret? To become a member of our Dominance and submission Communities, please see links, subMrs.com and If your husband cares to sate his interests in becoming or learning about becoming a husDOM, send him this husDOM link.
Want to Hear More?
We do monthly podcasts, subscribe to Marriage's Sexiest Secret and husDOM podcasts.
Happy Spanksgiving!
Mr. Fox & Little Kaninchen