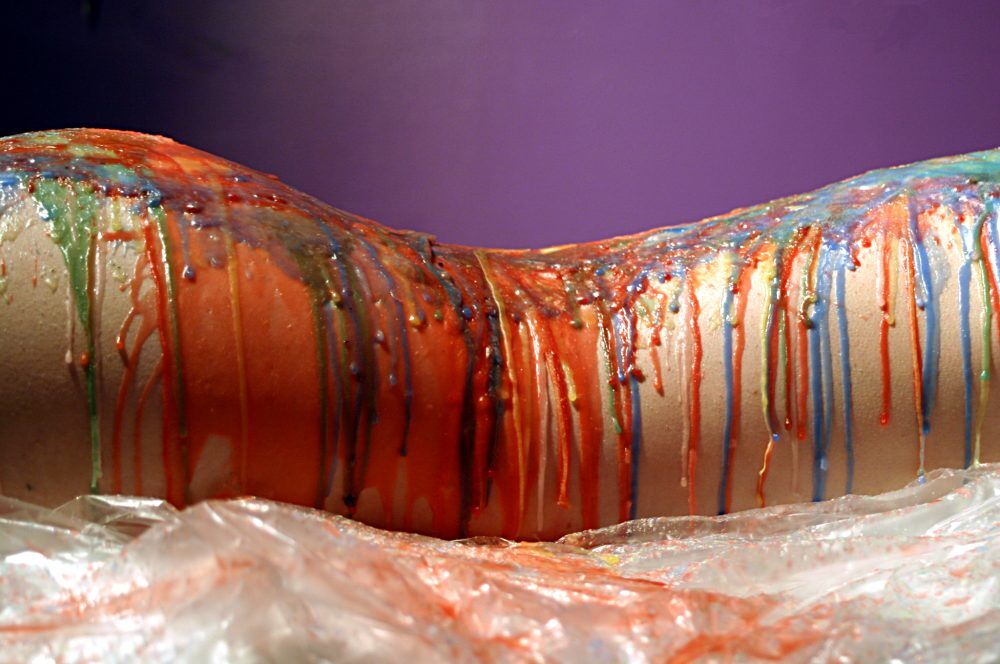 Wax Play
Wax Play is a sensual temperature play involving warm or hot wax usually dripped from candles or ladled onto a person's naked skin causing a slight burning sensation. It is general practice in BDSM scenes. In D/s-M, Mr. Fox and I look at it as a way to build on the foundation of trust, one of our main pillars of this dynamic.
WARNINGS & TIPS
Using wax in a scene is a moderately advanced technique. I warn all couples to practice in playtime before using wax in scene. Sample your wax on your wrist or his to test temperature. Then try it on your stomach in playtime before trying it in a scene. Here are some examples and obvious reasons why it is important to verify wax use prior to a scene.
Wax can cause severe burns, get to know your tolerances.
Some submissives may be allergic or sensitive to perfumes, dyes and oils, nuts. Many candles can contain nut oils or are made with something that has come in contact with nuts.
Take into consideration any

diseases, skin conditions, and medications that may require additional precautions.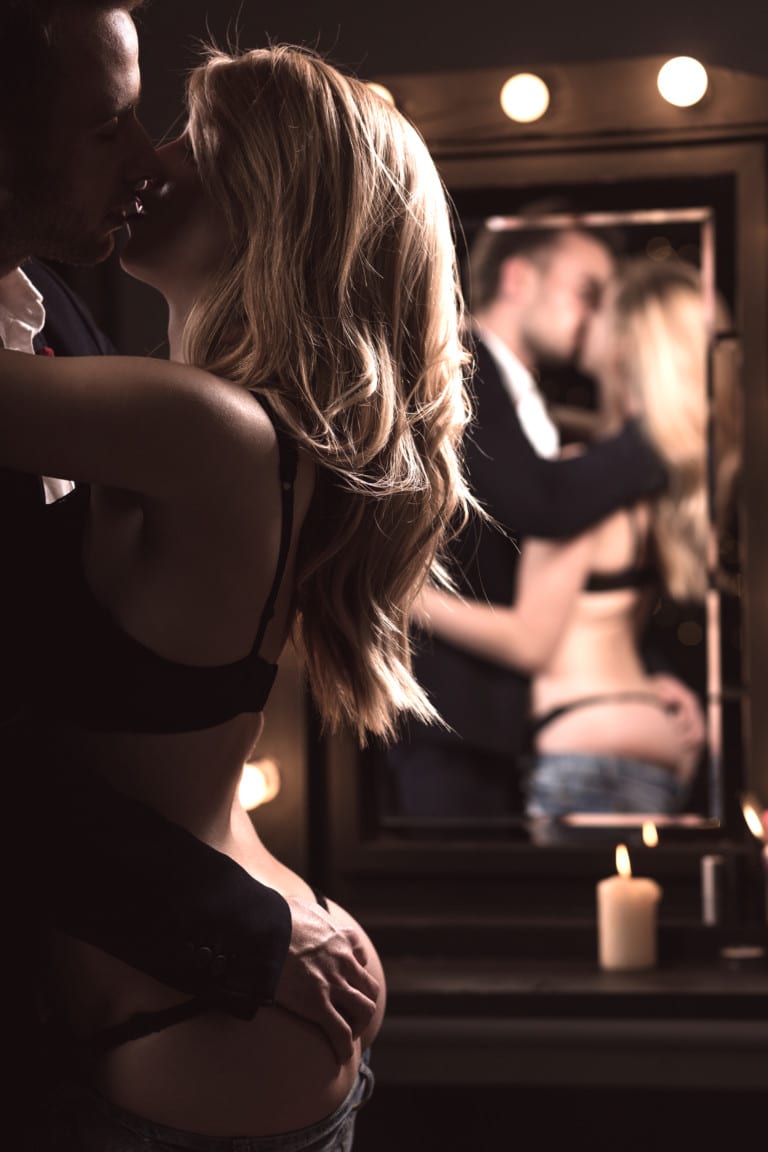 A couple more quick precautions, wax can splatter into the submissive or Dominant's eyes. Candles and or wicks can break and set fire to objects underneath or nearby. Watch those kitty cats tails! That did happen to me, but that's a whole other story….. LMsAO! Look at the environment all around where you're setting the candles because whatever that is around a burning candle will get very hot, even at good distances. Keep a glass of water or wet washcloth handy for fire control.
*** I also am not the know all of every wax play scenario so please get on the world wide web and do your due diligence, homework, and make sure you both discuss wax play in downtime before jumping into the pot of hot wax! Google some images of wax play with your Sir, show him your desires.
CLEAN UP
Wax may be difficult to remove from skin, especially in areas with hair. In all those sexy images you find on the internet you'll see a sharp knife is used to remove wax. Well, obviously, I don't recommend that. It can be very erotic, him just picking the wax off slowly with a little edge of pain. You can achieve the feeling of a knife, mind fucking your sub by using a blindfold and rounded baker's spatula or froster, touch of the metal but no sharp ends. Some couples use a thin plastic card to remove their wax. Mr. Fox and I usually apply lotion before play can make wax removal easier. Also over time, we have learned to always start with an oil massage candle, getting a good base of wax foundation down as it helps with the warmer burning candles temperature difference, a shield of sorts.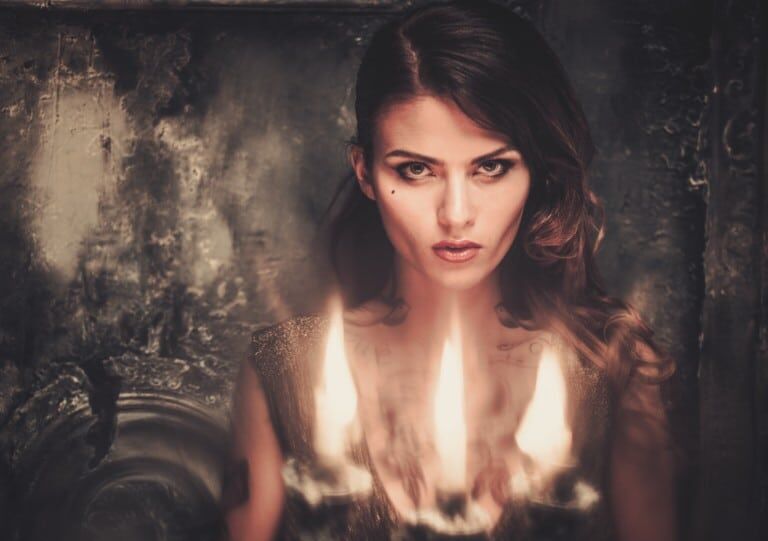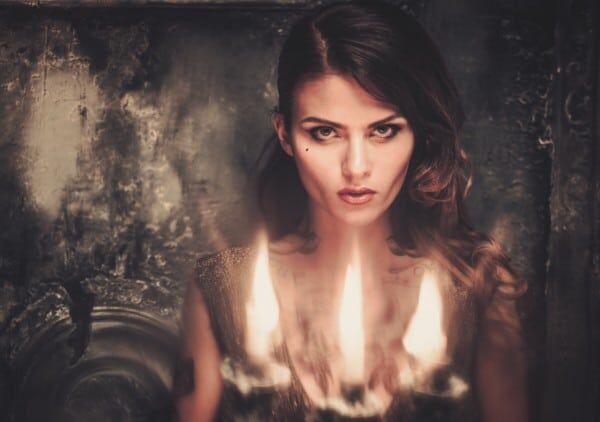 Let's talk material, wax is difficult to wash out of clothes and bed linens. Put an old sheet or piece of plastic down, like a generic shower curtain so you do not ruin your nice bed linens or rugs. Colored wax specifically can be very hard to get out and not to mention stain things.
TYPES OF CANDLES & WAX
Different types of candles produce different temperatures of wax. They can range from warm and soothing to dangerously hot wax. There are significant differences between individuals' tolerance for heat, which can vary depending on exactly where the wax is applied. We all know as submissives where our nerve bundles are the most sensitive, ask anyone who has had a full Brazilian/Hollywood bikini wax….. OUCH! Again, another post on that topic later.
MASSAGE WAX
Let's begin with where a beginner to wax play and newly married couples to D/s-M should start, Massage wax. These are the same waxes used by a massage therapist. They could be made with soy, oils, olive and or essential oils, and even beeswax. I mentioned earlier this is the best way to start to get to kno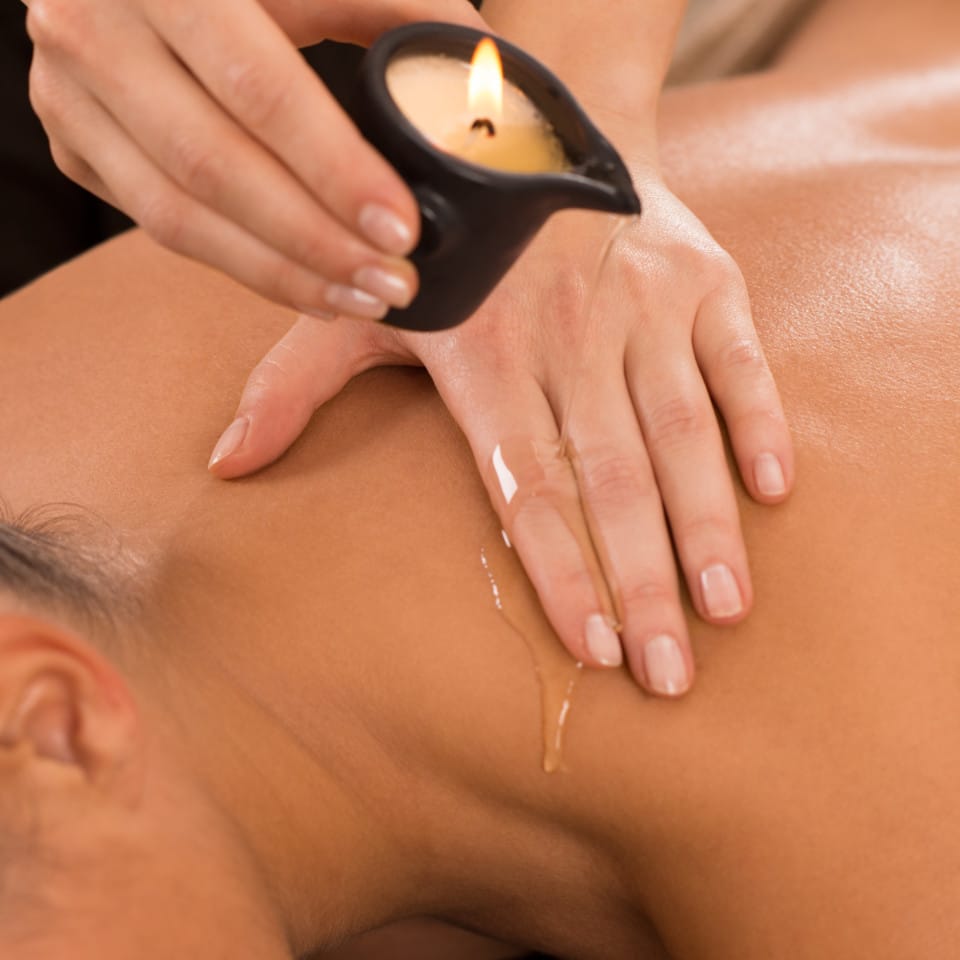 w your tolerances and your Dominant's chance to learn how to use wax. Massage wax can be used as a base for other waxes. This wax is poured from the container onto the body and usually massaged into the skin. They usually come with a stick or spoon to stir and can be used to drop onto the skin. Wax, when pooled, concentrates heat so this type is usually pooled. Stir your wax before pouring! Wax heated in a pot, can or containers must be stirred vigorously or there can be dangerous temperature variations.
***Remember the farther the wax has to fall the cooler it will be when hitting the skin… Arm's length is best.
SOY WAX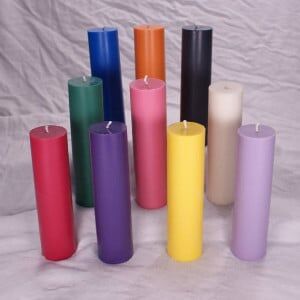 The next step into wax play is soy candles. Soy candles are the safest due to their low melting temperature, how quickly it cools on contact and it is relatively easy to clean up. Soy candles are made from soybean oil. They are softer than paraffin wax and with a lower melting temperature. It is naturally off-white and opaque in appearance. As the picture shows you can get them in colors but the color additives can add to the temperature and melting point. Soy Candles melt at approximately 130°F. The picture to the left is my soy candles from Etsy. Great candles. These are usually dripped onto the body. You can also layer with a sheet of natural soy wax before dripping on the colored waxes. Pictured below, soy tea lights.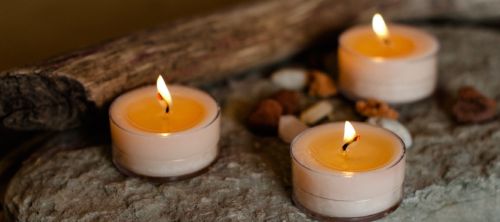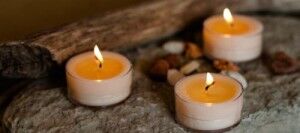 PARAFFIN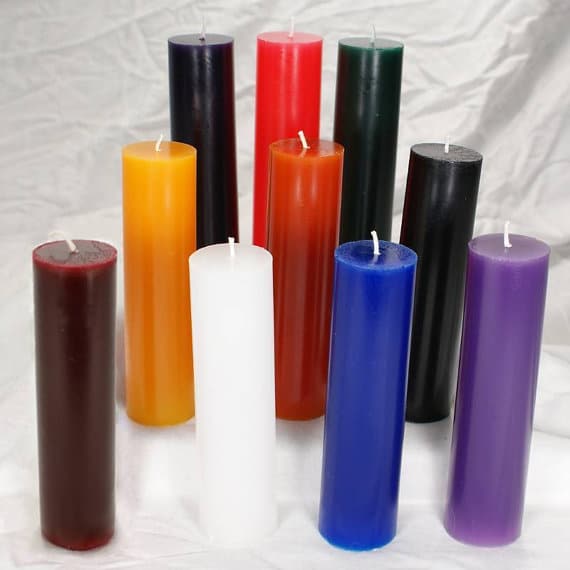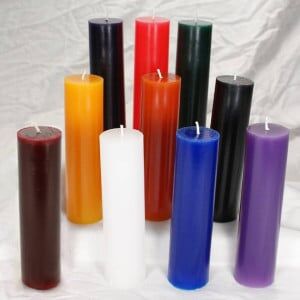 Most store-bought candles and scented candles are made from Paraffin wax with additives. Paraffin candles typically melt at around 135-145 °F. Pure paraffin wax is a white or colorless soft solid derivable from petroleum, coal, or oil shale. Being made from petroleum, they are a source of known human carcinogens and indoor pollution. Paraffin candles are known to burn hotter depending on their additives. They are harder to clean up as well.
Any other hotter burning waxes, I wouldn't recommend because D/s-M is about "finding pleasure" in yourself, your partner, your husDOM, your subMrs…. Find and deepen your foundation in TRUST.
ADDITION TO WAX PLAY, A blindfold is both of your best friends……
I found that if you add a blindfold to your wax play that it helps you really feel the wax and pay attention to your body and your tolerances to the sensation. The blindfold is also good for your husDOM because he can keep you from seeing his misses and facial expressions until he gets comfortable using fire and wax. Dominants should be doing constant check-ins with their subMrs, using (1-10 or RED, YELLOW, GREEN). You can take this as far as you and your Sir would like. Add more deprivation, sound, sight, and more bondage maybe even a gag.
Have your husDOM's write Mr. Fox on www.husDOM.com and ask him about a Fire & Ice Scene…>>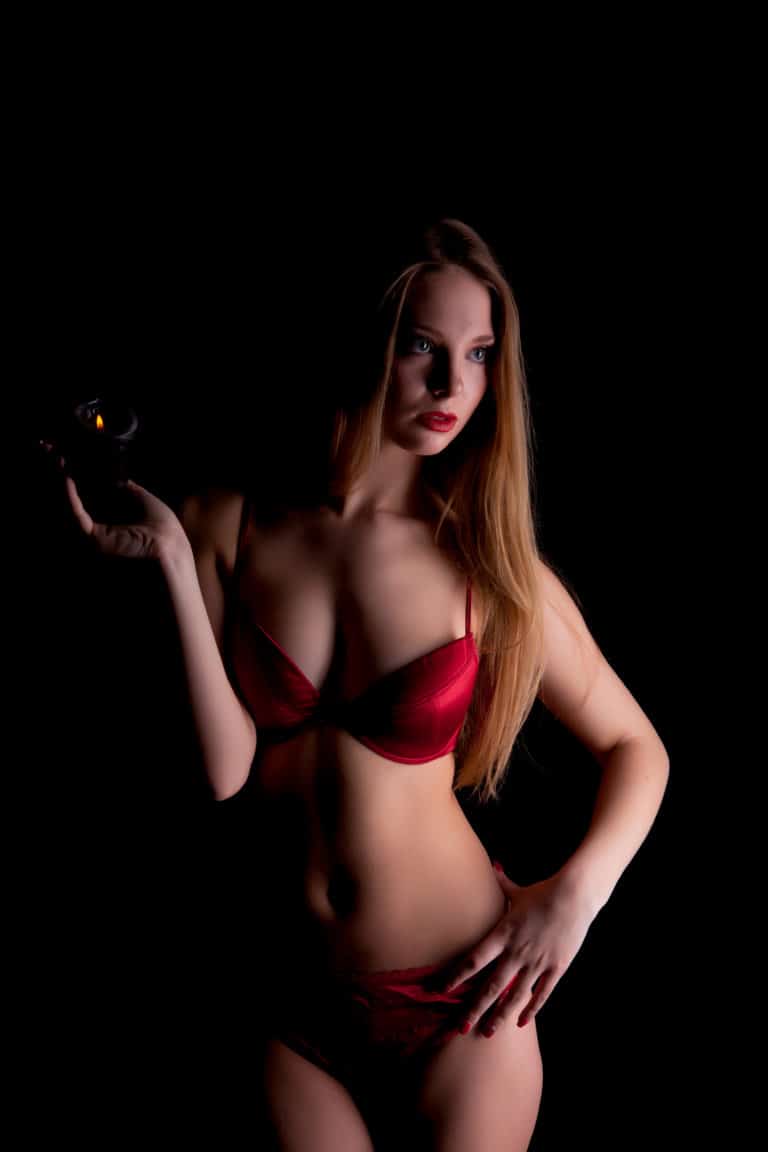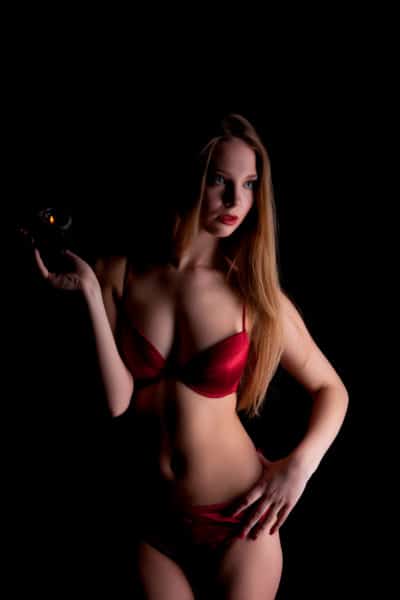 *** Don't forget the music. PLAY LIST ALERT!
https://youtu.be/Mp9lbM6Hf_k
~LK~
Paid Images