Love Letter | Writing a Love letter for Your Dominant | Valentines Day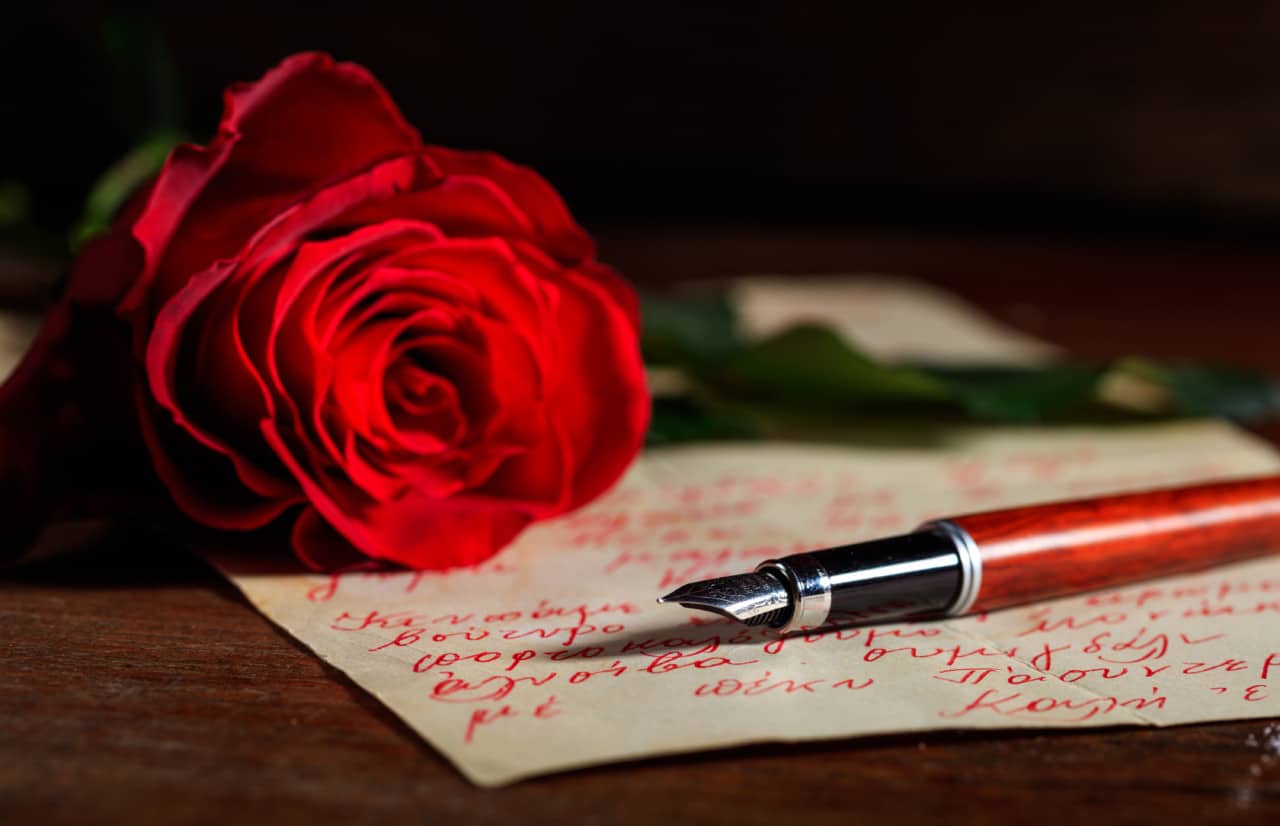 Love Letter
~
Valentines Day

~

With Saint Valentine's Day coming, Love is in the air. I wanted to write a real romantic love letter to my Dominant, Mr. Fox. Valentine's is commercialized and set's many an expectation for vanilla couples. Now I want to also say, Mr. Fox travels for a living and is rarely home on the actual holiday and we did not really celebrate it if he was not home. When we did get to go out on Valentine's Day the food is not good due to over-packed restaurants. As a vanilla wife, I wanted "wooed" in ways unlike any other day of the year. Let us say that my expectations were one of a romance novel and were always dashed by the time I reached the restaurant. [ SAD TRUMPET SOUND…..] This was not Mr. Fox's fault because he had no idea of my high expectations for those Valentine's Day's he was home. This year again Mr. Fox will be away but I wanted to do something for him to let him know yet again how much I appreciate what he has given us, D/s-M. Handwriting a letter has become something from the past. This made me think of the movie, Pride & Prejudice, one of my favorites. If you live under a rock somewhere and have not seen the movie or know of it, please watch it with your husDOM. There was a letter sent to Elizabeth from Mr. Darcy and it will touch your heart.
How to Write a "Proper" Love Letter
Before I started my letter to Mr. Fox, I first wrote out a list of things about him that stick out to me as his best character traits and physical attributes. Then, I am always the one to find out how to do something "properly" this usually gives me a jump-off where to start. First, when you begin writing you always want to start out with the purpose of your love letter. " This is my love letter to you." or " Today, I am writing you on this special day." This way your husDOM knows this is something special. Next, in your love letter, you want to write about something that happened in the past with your husband that will touch him deeply. " I remember when you first held the door for me." or " When I looked into your eyes after asking for TTWD." After this then go into a couple of his character traits he has presently of his that you hold dearly. " You are always honest. " or "You always make me feel safe. " You can write out all these parts separately on index cards and then put them together in different ways to see what sounds the best. Look at your original list and find the thing you most admire about his physical being. "Your blue eyes are like pools of water" or " Your cock can take me places that I never knew." ~ HEY add your D/s-M and fun in where ever you can. After the fun, you must add that you will always be faithful in some manner. " I will stand by your side, faithfully." Then you end with your hope for the future. "I have always loved you and now I love you even more into the future." or "As time passes my love only grows."
The Beginning and the End
At the top of your letter, you want the best and most romantic way to address your husDOM. This will be different for each subMrs… It could be his Dominant name or any term of endearment, my dearest, honey, babe (puke), sweetheart, even Pookie-bear (double barf). LMsAO! Now, one last thing that you may want to end the letter with is a quote from another love letter from the past or something from a romantic book or piece of poetry. Google romantic quotes, poems etc… After a few rough drafts, you will cum out with a loving and romantic letter to your Dominant husband.
"I love you without knowing how, or when, or from where. I love you simply, without problems or pride: I love you in this way because I do not know any other way of loving but this, in which there is no I or you, so intimate that your hand upon my chest is my hand, so intimate that when I fall asleep your eyes close."
― Pablo Neruda, 100 Love Sonnets
Accessories
The interior decorator in me wants to make sure I add some accessories to this love letter to your Dominant. These accessories should add something to his 5 senses. Smell, spray with perfume, something for him to touch, glittery hearts that fall out everywhere, representing what he does to your heart. Taste, his favorite candy, cupcake or lollipop. Be thoughtful in your accessories and mindful of your submission.
Valentine's Day and D/s-M
Valentine's Day is a day to celebrate your love. In D/s-M we make our marriages first again and therefore we are celebrating our love in lots of different and exciting ways all the time. Valentine's Day is yet another day to celebrate what your Dominant husband or husDOM means to you. Write your love letter's and let us know what your Sir thought of them. HUGS!
Mr. Fox and I wish you all a HAPPY ST. VALENTINES DAY!
lk
Pd Images
2/2018
Wiki, loiterer.org, Pablo Neruda